Volunteering for Humanity
Volunteering for Humanity is a group of four European humanitarian and development agencies that have come together under the auspices of the EU Aid Volunteer Initiative.
The objective of this project is to strengthen the capacity of consortium members in order to participate in the EU Aid Volunteering deployment programme. This 2-yr project sees partner NGOs from Slovakia, Lithuania (both EU13 countries), Ireland and France come together to
Objective 1: Increased capacity within consortium NGOs for humanitarian action.
The consortium members will work together to
Develop Project cycle management tools
Strengthen each other in
security/risk assessment management
volunteer management
project cycle management and results based management
needs assessments
operations management
M&E
facilitation
Ensuring best practice policies and procedures are in place for all above areas
Objective 2:  Consortium NGOs become certified as sending organisations.
Group members will cooperate to
Mutually strengthen processes for managing relationships with host organisations, safeguarding and training
Ensure policies and procedures are in place for all areas
in order that all members can become certified as sending organisations.
Objective 3: Increased collaboration between humanitarian volunteering organizations.
Group members will collaborate regular and develop a strong working relationship between NGO counterparts, with Partner NGOs able to meet each other's support needs.
Working Together to Increase Capacity for Humanitarian Action
These results will be achieved through policy sharing, tailored training, workshops and reviews, job twinning, partner visits, mentoring between NGOs according to complementary strengths and weaknesses, peer organisations joining all workshops and events, development of a network for humanitarian volunteering and development of an open online collaboration tool.
We will also  be preparing and presenting a multimedia project in various partner countries and Online.
Volunteering for Humanity Group Members
Adice
Founded in 1999, ADICE is a French association which has been working for more than fifteen years as a volunteer sending agency in humanitarian aid. They have projects in developing countries (including Cambodia, Tanzania, Peru) that aim to support local communities and other on-going humanitarian projects in Vietnam and Mexico targeting vulnerable groups.
Keric
KERIC is a non-profit non-governmental organisation founded in 2003 working mainly with children and youth aged 4-30 as well as adults. They offer a wide range of activities which develop the personality of children and youth and differ based on the needs of participants.
Main activities include conversational language courses, computer courses, international youth exchanges, summer and winter camps, seminars and trainings for youth workers from all over the world, creative workshops in the KERIC Underground club or at local school, sending and hosting volunteers to and from Europe and Latin America.
VB Platforma
Is an association uniting organisations working in the field of development cooperation (DP) from Lithuania.  Founded in 2007 the NGDO Platform has currently 20 members. The Platform is working to strengthen intercultural, civic and democratic societies in Lithuania, to expand opportunities for Lithuanian NGOs to participate in international development cooperation activities and to help develop their skills. They represent non-governmental development cooperation organizations in Lithuania, the European Union (EU) and other international organizations, and are actively involved in the formulation and implementation of the EU-Lithuania Development Cooperation Policy.
Viatores Christi (VC)
Is an Irish-based development organisation supporting and working within the faith-based international development and humanitarian aid sector.  VC works with over 30 partners across a wider range of sectors in focusing mainly on East and Southern Africa, but with projects in Asia, Latin America and the Caribbean. VC addresses these needs through project support and through the recruitment, training and placement of skilled volunteers.
Volunteering for Humanity is funded by EU Aid Volunteers
EU Aid Volunteers brings volunteers and organisations together from different countries, providing practical support to humanitarian aid projects and contributing to strengthening local capacity and resilience of disaster-affected communities.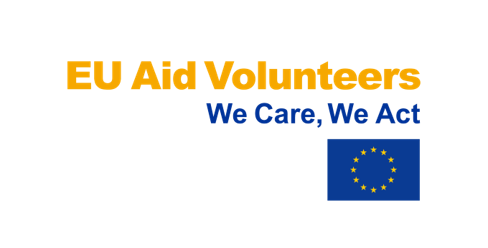 #EUAVI