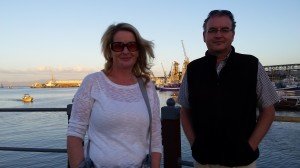 Shane Halpin – VC CEO
A very successful project monitoring visit took place in November as part of our commitment to visit our volunteers and projects on a regular basis. The visit began with a brief stopover in Lusaka to meet with FIM Hands project run by the Congregation of the Immaculate Conception in Lusaka. This is a skills training programme for the poor and disadvantaged focusing very creatively on key areas of need in the area. The project is located on the outskirts of an expanding city and consists of a large walled compound of several acres of horticultural land. The project aims to train people in horticulture and other such skills to cater for the growing urban need for trained gardeners and other qualified workers. Helen Flaherty has been with the project now for over a year. Following our visit to Helen we made a brief call to catch up with VC volunteer Brian Sheridan from the Jesuit Farm in Kasissi. Brian has been working on a large social enterprise farm as part of a new Jesuit programme near the city. Immediately after this we caught up with our new partners in the city called SHARPZ. A project of the Franciscans, SHARPZ is an alcohol and drugs reduction initiative and currently hosts our latest volunteer, Sheila Devereux and will soon be joined by Clara Brasier.
Then we headed for the airport and onto Johannesburg to hire a car and visit our next prospective partner, the Salesian Development office in Booysens South Johannesburg. Here we met with Fr Robert Gore SDB and discussed the forthcoming arrival of new volunteer Chris Toal who travels out this month. Chris, who is from Belfast will assist the development office in a project support capacity. Fr Robert showed us around the location and the recently completed Fr Declan Collins Training Centre in Ennerdale some 30 minutes' drive from the office. Here the Salesians have converted waste land into a state of the art centre to provide work skills to disadvantaged youth from the area. The visit included a visit to Walkerville where the Salesian's run a residential retreat and youth centre. Another volunteer is being recruited for this centre as we go to press.
Following a quick cup of tea we drove north up the M1 to Pretoria were we met with prospective partner Xaveri youth movement and its director Martin Mande. Xaveri is a project which has its roots in the Missionaries of Africa, the White Fathers and is doing great work with refugees and disadvantaged youth in the region. It is hoped to have a further volunteer here in the Spring in the area of organisational support and planning. Then we headed west for six hours into the Kingdom of Swaziland, an independent country north east of Johannesburg. Here we called into VC volunteer Noel O'Meara development manager at Manzini Youth Project. MYP is another Salesian project and is run by Fr Larry McDonald, a Drogheda man who has been in Swaziland for most of his life. Manzini is a large town surrounded by mountains and fertile valleys. The project, is a classic Salesian apostolate focusing as it does on youth and youth unemployment in particular. Fr Larry has developed projects to cater for all possible needs, all aimed at giving youth a chance in life.
After the weekend we headed back to Johannesburg and flew down to Port Elizabeth (PE) on the East coast. Here we were met by Irish Sister Mary McAteer and South Africa sister Ann Genevieve both sisters of the MSA, Missionary Sisters of the Assumption. The first visit in the Eastern Cape was to Port Alfred about an hour's drive up the road from PE. Here we met with another Irish sister, Mary McEvoy MSA who is running a small outreach project for young people with special needs. Services are non-existent in the area for these youth and Enkuthazweni provides much needed practical support to home bound youth. Then we returned to PE to visit St James Catholic Girls School located in a former coloured area on the outskirts of the city. Here we met with the school principal and staff and had a long discussion about the many challenges facing the programme due to the changing situation in South Africa. It is hoped that we will have a volunteer here within the next three to four months. Then off to the airport for the final leg of the journey and down to Cape Town. Here we were greeted by long term volunteer, Aisling Foley and project partner Eleanor Brook CEO of Home of Hope. This project continues to grow from strength to strength and is doing great work in the area of advocacy and schooling of children with FASD, foetal alcohol syndrome. Here we undertook an indepth M&E of the work and were very pleased with what has been achieved since the last visit some years earlier. Our final project visit was to former Loretto project Prison Care Support Network also based in Cape Town. This new partner and its director Fr Mathai Babychan is a project which is active in the area of restorative justice and rehabilitation of former inmates who wish to get back into society and make a fresh start. A challenging but exciting role awaits our final volunteer placement on this whistle-stop trip. Both Sally and I are very thankful to all the project partners and VC volunteers we met during our trip and indeed to the hospitality received. The trip once again proved to us that our volunteers and their partner projects continue to make a huge difference through VC's direct support.