2020 proved to be a tough year for sustainable development projects throughout the globe but many organisations have proven their ability to adapt, including one of VC's partners; Partners in Compassion – Cambodia. Partners in Compassion are focused on providing education, skills training, and community development, for themselves and the greater community around them. Their commitment to assisting and supporting the Khmer people in raising the living standards of society's most vulnerable individuals and groups has not wavered despite the challenges of 2020.
Literacy classes are changing the lives of the Khmer community
With our support, Partners in Compassion have found that since they began their implementation of the Sustainable Community Based Project For Orphans & Vulnerable Children, there has been an increase in the awareness of the needs in the targeted villages and other areas. COVID-19 combined with climate change has had an economic impact, making people poorer, with the gap between the rich and the poor widening. The support that Partners in Compassion provide is needed more than ever.
One of the project's beneficiaries is Semly, who is 66 years of age. Semly lives in the BatiDistrict and has been widowed many years. She has two sons, who have their own children and Semly is a caregiver to 3 of them. Semly has been attending Partners in Compassion's literacy classes. Despite being fully responsible for her grandchildren, Semly says she likes "to improve myself, get new experiences and learn new things". In order to attend classes, Semly organises a neighbour to take care of her grandchildren.
"I stopped my formal education in 1970 because my parents did not support education for females and after the genocide years I never went back to school. At that time, I was in Grade 4 of primary school. I now regret not going back to school when it became possible. I enjoy coming to the literacy classes because I am improving my life and I meet others like me who were illiterate but now can read and write"
50 years without formal education
[one-half-first]
Over 50 years without any formal education, Semly is now learning how to read and write in the Khmer language and doing mathematics. Semly's improved literacy skills have given her more confidence in the day to day errands of life, such as going to the local market and reading the newspaper. Semly has been attending the literacy classes for two years and hopes to continue to learn and to help her grandchildren.
"I use my new knowledge to help my grandchildren with their homework and during the time of no school because of the COVID-19 virus I gather them together and we can continue to learn together. I hope I can continue to increase my knowledge."
You can see more of Partners in Compassion's work [link] here[/one-half-first] [one-half]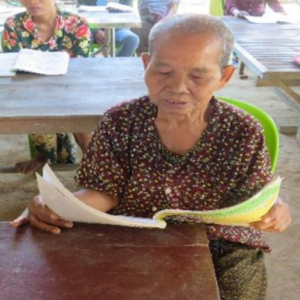 [/one-half]