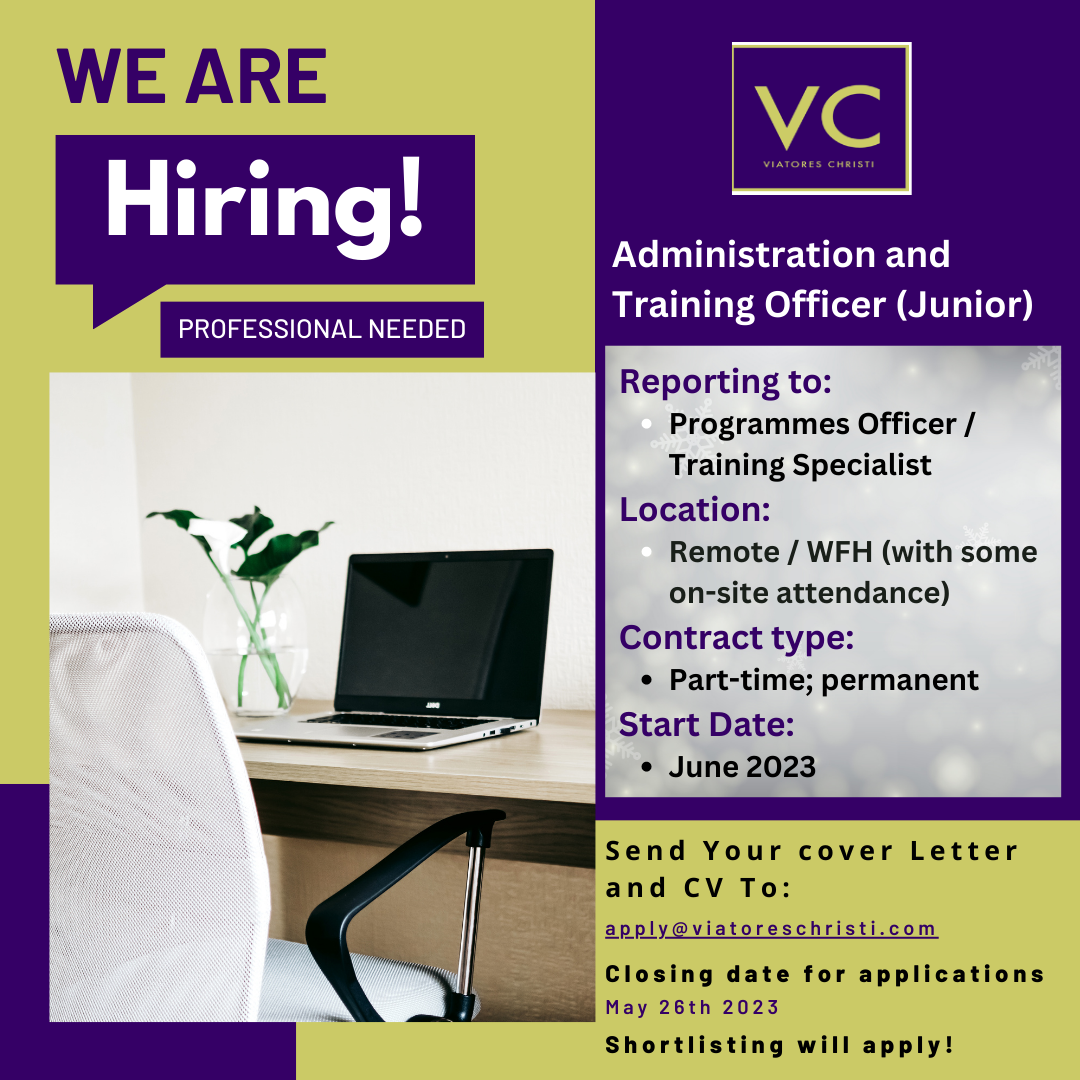 Administration and Training Officer (Junior)
Reporting to: Programmes Officer / Training Specialist
Location:  Remote / WFH (with some on-site attendance)
Contract type:    Part-time; permanent
Start Date: June 2023
About VC
VC (Viatores Christi) is an international development organisation (with its HQ in Ireland and a regional office in Kampala, Uganda). VC works with over 20 partners across a range of sectors and countries where it engages in specific needs-based development interventions including the provision of training programmes. Annually over 150,000 individuals directly benefit from the work of VC across partners in the areas of health, education, human rights, income generation and livelihoods.  The organisation is funded by Irish Aid through its intermediary Misean Cara. VC is also engaged with EU European Solidarity Corps Humanitarian Aid, Erasmus+ projects and Irish Aid Development Education projects.
Summary
A vacancy for an Administrative and Training Officer (Junior) has arisen within VC.
The role requires knowledge and experience of Salesforce, Share Point, Microsoft Office with Excel, support in the organisation and administration of internal VC training programmes, facilitation skills and event planning. Knowledge of development practice and development education and global citizenship education (GCE) would be ideal.
This remote working role will be multifaceted and will be of interest to candidates with experience in similar environments seeking an exciting new challenge in the international development sector.  Some international travel may be required.
It is envisaged that the role will have three main areas of focus, but will be molded to the skillset of the applicant.
Duties
The Administrative and Training Officer (Junior) will be required to:
Support and administration of the three key areas within VC
1) General Admin Support
Maintaining current information and uploading data to organisation database Salesforce
Maintain document control system on Sharepoint and ensure all personnel have access to updated documents
Respond to requests from members/volunteers and co-ordinate trainee registration and certification
Redrafting and proofreading standard operating policies & procedures eg Code of Conduct
Provide administrative support to team, including generation and distribution of newsletter; monthly membership correspondence and information pack for monthly Council meetings
Plan, organize, and schedule meetings
Provide administration across the organisation to support the VC development programme activities which include development projects in Uganda, Cambodia, India and Haiti.
Particular support in the area of Salesforce and SharePoint.
2) Training Programme
VC currently offers two interactive online Venture training courses per year aimed at building capacity in the area of international development and humanitarian aid. VC also offers Upskills Online training programme which is not time critical and is offered throughout the year. Both will require hands on admin support and engagement with trainees, and support of VCs part-time Training Specialist.  Further support is required for VC's ongoing development of its Inclusive GCE training programme supported by Irish Aid and internationally with the EU Erasmus programme. The role will require support for Promotion and Marketing as support on online and face to face training events.
3) EU ESC Humanitarian Aid
As part of a consortium called HAND, they will be required to assist the VC Programme Officer with the recruitment, training, deployment and support of a number of European volunteers on assignments in Uganda, India and Bosnia Herzegovina. This aspect of the role will involve international collaboration and engagement with potential and recruited volunteers while on placement
Additional areas
As a member of the programmes team contribute in areas of overall direction, policy, programme development
Attendance at training events, conferences and other functions as necessary
Familiarise and keep up to date on policies and procedures
Organisation of and attendance at fundraising or networking events as required
Any other duties assigned, as required
Person Specification
Essential Skills
Excellent organisation, planning and time management skills
High level of communication and comfortable working with diverse teams
Experience of training programmes/learning and development
IT, Social Media and data literacy skills
Skilled and comfortable with Salesforce and SharePoint management
Strong networking and influencing skills
Excellent proofing skills with keen attention to detail
Desirable Skills
EU project experience
International development project work
Facilitation experience
Knowlegde of Online Learning
Experience of Event management and Planning
Essential Competencies
Self-starter with excellent initiative, motivation and drive
Organised with strong attention to detail
A creative and strategic thinker
Ability to work on own initiative, while also being part of team
An ability to represent VC confidently and effectively convey its key messages.
Outgoing with an ability to interact with different groups of people
Passion to make a difference even with limited resources
Reporting / Relationships Structures
The successful candidate will be based remotely will report initially to the Programmes Manager in Dublin.  Working as part of the VC team, he or she will also work with the VC Uganda team to ensure that output is in line with agreed strategy and that all aspects outlined above are delivered.
Terms and Conditions
Starting salary will be €28,000 pro-rata for a 4 day working week.
Pension scheme after one year of service
How to apply
Please send cover letter and CV, edited to highlight relevant experience, to apply@viatoreschristi.com
Closing date for applications is May 26th 2023
Shortlisting will apply